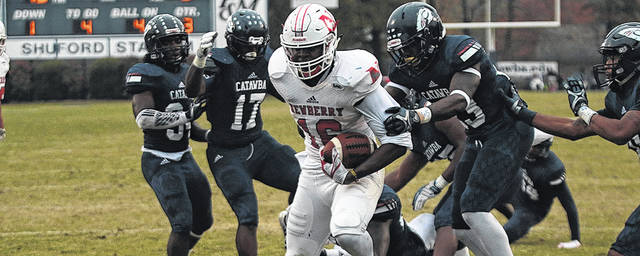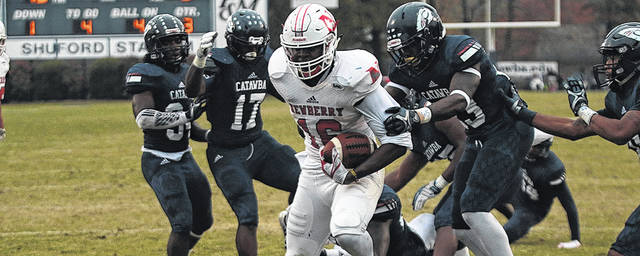 Wolves score 10 points in second half without services of either quarterback. -
Courtesy photo
SALISBURY, N.C. — With one quarterback standing on the sidelines in street clothes, flanked by his counterpart and could only grasp the inside of his shoulder pads and watch the action unfold in front of him, Newberry turned to a ragtag bunch to take the reins of the offense in the second half.
The combination of running back Darius Clark, tight end Baptiste Staggers and wide receiver J.T. Waters led the Wolves on two scoring drives and marched into Catawba territory in the final minute before the Catawba Indians' defense came up with a fourth down stop as Newberry fell 17-13 in South Atlantic Conference action.
Newberry (4-6, 2-4 SAC) pushed the sixth-ranked team in Super Region 2 to the brink despite being without the services of both ends of its quarterback rotation after halftime due to injury.
The Wolves were forced to turn to the trio, who primarily ran out of a Wildcat set but combined to go 5-for-13 for 79 yards through the air, for the entire second half.
Catawba (8-2, 4-2 SAC) forced quick punts on the Wolves' first two drives of the half before Anfernee Moffett recovered a momentum-changing fumble at the Indians' 25 with 5:56 to play in the third quarter.
Trailing 10-3, Newberry embarked on a seven-play, 25-yard drive capped off by Staggers' first career rushing touchdown from four yards out to tie the score.
Catawba immediately responded with a 75-yard drive culminating in a 14-yard Keyon West touchdown catch, his second of the afternoon, to retake the lead. But Newberry's trio of quarterbacks again answered the call, marching the Wolves on a 7:17 drive that covered 58 yards in an astounding 15 plays and sliced the deficit to four points with a 34-yard field goal from Shea Rodgers.
Newberry got the ball back with 1:57 to play and immediately gained 47 yards on a completion from Clark to Markell Castle. But the Wolves were unable to pick up another first down and Catawba ran out the clock to seal the victory.
Newberry's defense allowed just 268 yards on the day, marking the fourth time this season that a Wolves' opponent has failed to attain 270 yards of total offense. Catawba had no answer for Jamarcus Henderson, who finished with a pair of solo sacks accounting for an eye-popping 32 yards, had three total tackles for loss, and counted eight solo stops among his 11 total tackles.
Joe Blue had eight tackles, all solo, with two tackles for loss. He also forced a fumble and was one of five Wolves credited with a quarterback hurry. Moffett had three tackles, including a stop behind the line of scrimmage, and was credited with a fumble recovery and a pass breakup.
In all, seven Wolves finished with at least one tackle for loss.
Castle finished with six catches for 110 yards, the fourth time this season and ninth of his career the junior has gone over the century mark in receiving yards. He moved into a three-way tie for 10th in school history in single-season receiving yards, matching Derrick Higgins (2003) and Kendal Brown (2001) with his 756 yards in 2017.
The Wolves dominated the first period but came away with only a 3-0 lead thanks to a 49-yard Rodgers field goal, Newberry's longest since at least the 1997 season. The Wolves maintained possession for 11:03 of the 15 minutes and ended the quarter leading in total offense 105-10, with the Indians totaling -8 yards on the ground.
Newberry was 5-for-7 on third downs in the quarter while limiting Catawba to a pair of three-and-outs but had to settle for a pair of long field goal attempts, including a 40-yard effort that sailed wide left.
In a role reversal, the Indians scored on both of their second quarter possessions while limiting the Wolves to a single six-play drive. Catawba marched 81 yards on 13 plays before settling for an 18-yard game-tying field goal with 6:19 to play in the half.
The Indians capped off a 72-play drive with an 8-yard touchdown pass to West with 25 ticks left before halftime, with West tiptoeing along the far sidelines after corralling a pass on an out pattern from quarterback Patrick O'Brien.
Newberry finished the game 11-for-19 on third downs, committed no turnovers and scored on both chances inside the red zone.
The Wolves host Mars Hill next Saturday to conclude the 2017 season. Kickoff from Setzler Field is set for 1:00 p.m. following pregame Senior Day festivities.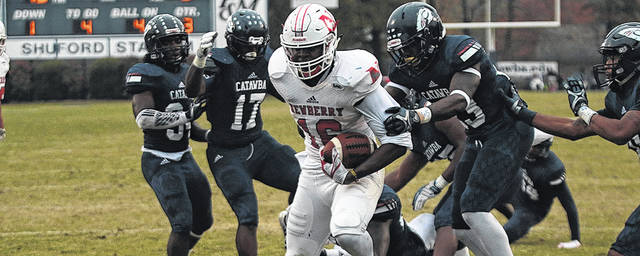 Wolves score 10 points in second half without services of either quarterback.