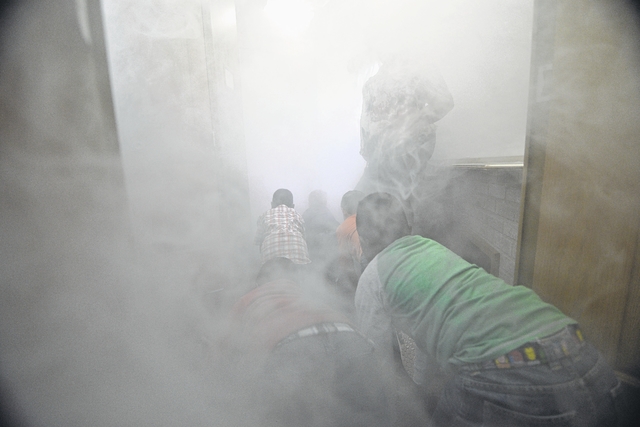 This fog simulated smoke and gave students a chance to practice evacuation procedures. -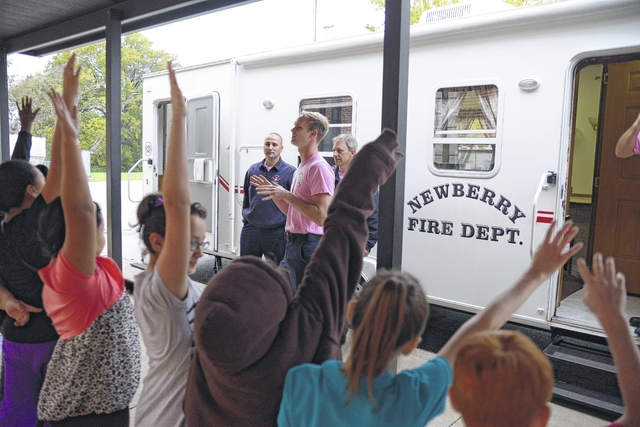 Students were eager to answer questions asked of them by the firefighters. -
Newberry Elementary School students toured the Fire Safety House thanks to the educational efforts of the City of Newberry Fire Department. -
Firefighter Andrew Morris uses the back of his hand to show students how to safely test a door inside a building that is on fire. - -
Puppetry and song helped the message get through to pre-k, kindergarten and grade 1 students. - -
Firefighters displayed turn out gear so students would not be afraid if there were a fire. - -
fCity of Newberry Firefighters visited Newberry Elementary School during Fire Prevention Month and made sure children understood firefighters are helpers and trusted friends. - -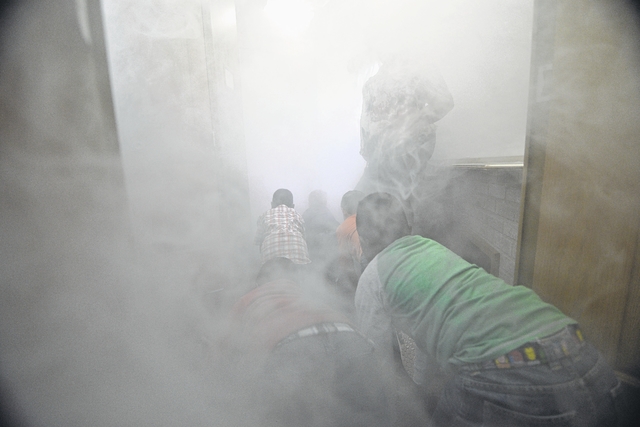 This fog simulated smoke and gave students a chance to practice evacuation procedures.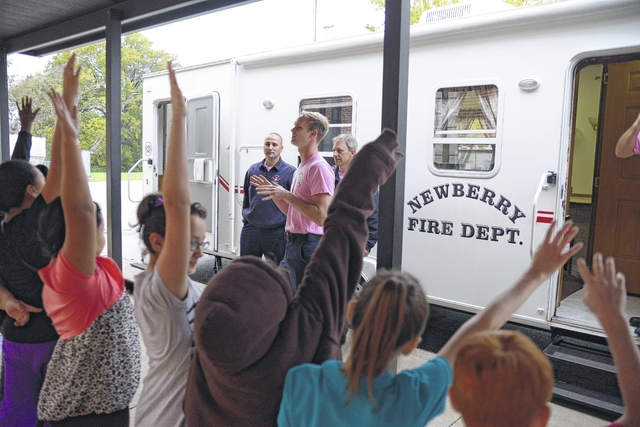 Students were eager to answer questions asked of them by the firefighters.
Newberry Elementary School students toured the Fire Safety House thanks to the educational efforts of the City of Newberry Fire Department.
Firefighter Andrew Morris uses the back of his hand to show students how to safely test a door inside a building that is on fire.
Puppetry and song helped the message get through to pre-k, kindergarten and grade 1 students.
Firefighters displayed turn out gear so students would not be afraid if there were a fire.
fCity of Newberry Firefighters visited Newberry Elementary School during Fire Prevention Month and made sure children understood firefighters are helpers and trusted friends.
NEWBERRY – Newberry Elementary School students in grades 2 through 5 got down to business this October during a visit from the City of Newberry Fire Department.
As part of Fire Prevention Month the students took part in the fire safety house simulation that used fog to represent smoke.
When smoke filled the room, students crawled on their hands and knees to safety but only after checking the door with the backs of their hands first.
Lessons taught included safety around stoves and cooking, the need to hold fire drills at home, and reminders to never go back into a fire for any reason once one is free of a burning structure.
Under the direction of city firefighters Andrew Morris, Brandon Wicker, Gregg Taylor and Bert Mohler, the students also discussed stop drop and roll.
The fire safety house presentations was completed for older students, but Newberry Elementary School students in pre-k through grade 1 saw a puppet show to teach fire safety.