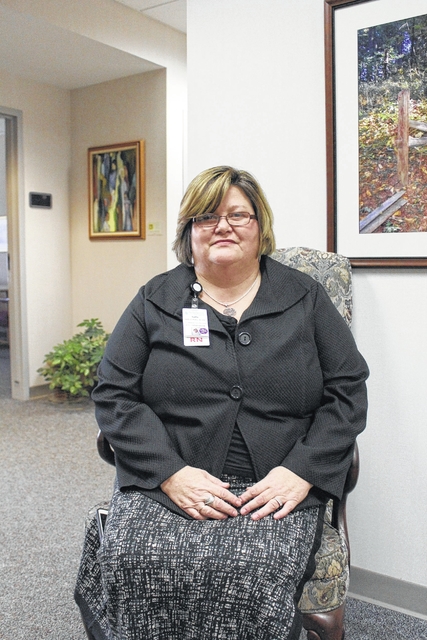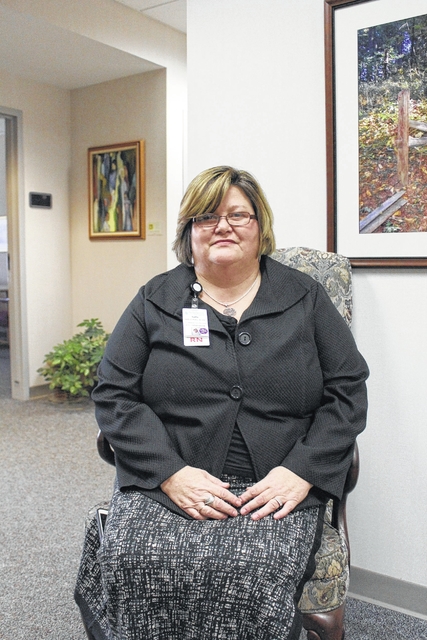 Sally Potts recently became Newberry County Memorial Hospital's newest Chief Nursing Officer/VP Patient Care Services. -
Kelly Duncan | The Newberry Observer
NEWBERRY — Newberry's small town atmosphere is just one of the reasons why Sally Potts, Newberry County Memorial Hospital's newest Chief Nursing Officer/VP Patient Care Services, decided to start a new adventure in Newberry and join the NCMH staff.
Originally from Boston, Mass., Potts had lived in Charleston for about 11 years and since starting her position at NCMH on Feb. 13, has relocated to Newberry.
"The opportunity really had oversight of all disciplines, not just nursing, so all of the clinical disciplines are really important to me because that's what I've focused on throughout my career," said Potts. "Just as important was the warm family feeling that I felt coming here. Everybody was just so welcoming, and sometimes when you go to a place it just feels right and that's how it felt here. It just felt really comfortable."
It's Newberry's close-knit community that drew Potts to NCMH. She said being in a smaller town will allow her to focus on getting to know the staff's strengths and weaknesses, as well as figuring out who will be the right fit when it comes to handling certain tasks or projects.
Potts has been a nurse for going on 30 years,. She started as a pediatric nurse at the Children's Hospital in Boston. She went on to get her master's degree and became a nurse practitioner, where she focused on pediatrics in 1996.
For Potts, taking on leadership roles has always been a calling.
Potts started out as a program director for a rehab center and also managed an infusion center in Boston.
After her husband retired, she found herself down south where she landed at MUSC Children's Hospital in Charleston, where she was quickly promoted to Director of Therapeutic and Professional Services, where she was exposed to a variety of multi-disciplinary roles.
Potts stayed there for 10 years and went on to receive her doctorate from Loyola University in New Orleans with the goal in mind to become a Chief Nursing Officer. Potts has also served as a diabetes educator, where she primarily focused on children, as well as being a teacher to future nurses.
"In any role in nursing, no matter what you do, you can impact the human condition. You can really make an impact on humanity and to me that overrides some of the difficult things that you have to see. At the end of the day you leave and you feel like your work has real purpose. There's really nothing you can't do in nursing," said Potts.
Potts' role at NCMH will consist of overseeing and optimizing the quality of clinical care and making sure that patients get the best experience possible with their stay at NCMH, along with creating and reaching common goals as a team.
For Potts, her goals include continuing to receive good patient satisfaction scores so that she will know that the patients are satisfied with their experiences.
Also on her list is to prevent causing medical errors, such as preventing low medical error rates, low fall rates and low infection rates to show that the care provided by NCMH is excellent.
Potts would like to continue working on staff satisfaction, saying that employees who aren't happy won't be able to provide the best care possible.
"It's really important that our employees are feeling happy, supported and guided with the work they do and that they feel this is a great place to work," said Potts. "It has been a wonderful experience getting to know everyone because the same thing that I felt when I interviewed here that people were warm and welcoming, has come to fruition. People genuinely want to help here and they are willing to open their doors for you, which is really refreshing."
As a nurse leader, Potts said that's it's important to her to help raise nursing to the level of practice it needs to be, by getting nurse leaders at NCMH engaged and hungry to raise the bar on nursing.
"Sally has also started a morning safety huddle and it not only includes clinical staff but everyone in the nonclinical departments, too. That's been something that we haven't done before and it's great for me in marketing, because I find out things I otherwise wouldn't have heard about," said Brenda Williams, executive director of the Newberry Hospital Foundation and Public Relations/Marketing Director.
Along with implementing morning safety huddles, Potts said she would also like to implement changing the culture over time at NCMH, as well as implement what is called a clinical ladder.
This clinical ladder would give the staff an opportunity to grow within their own disciplines, going far beyond nursing. This would allow for staff to grow professionally by showing that they can do the job they are assigned, while possibly receiving an incremental pay raise.
"I want to initiate what is called a Shared Governance Council so that nurses on each unit have a council where they can make recommendations about the practice in a more formalized way," Potts said. "I think nurses do have a voice here, but it's not formal and not necessarily acted on all the time. So this is a way that nurses from all units can talk about and fix problems on their own units.
"I feel like I have people's attention so now they have to learn to trust that maybe I am someone they should follow and I know that takes time. You can't just go onto a job and expect to earn someone's trust," she added.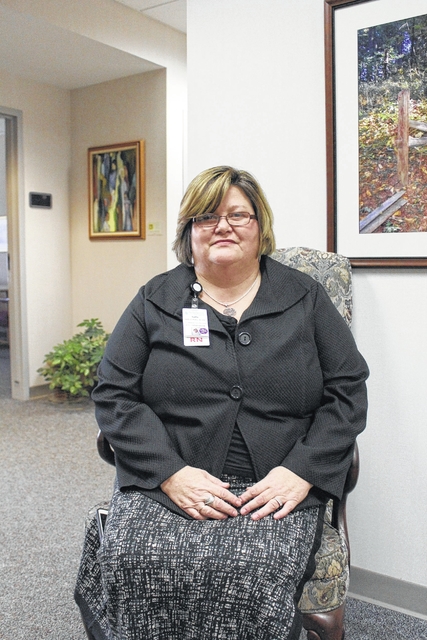 Sally Potts recently became Newberry County Memorial Hospital's newest Chief Nursing Officer/VP Patient Care Services.
Reach Kelly Duncan at 803-768-3123 ext. 1868 or on Twitter @TheNBOnews.