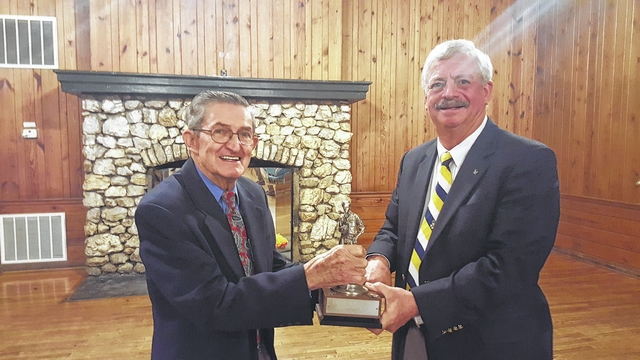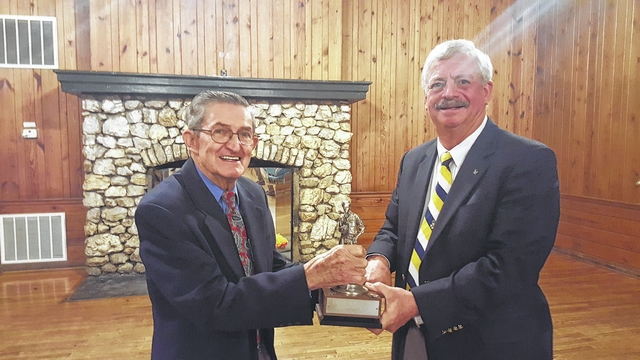 Jim Clamp received the Boy Scout Distinguished Citizen Award Thursday at a Boy Scout dinner at the Country Club of Newberry. Presenting the award for the Scouts was Les Hipp, who was a Scout in the troop Clamp helped lead, Troop 66. -
Courtesy photo
NEWBERRY — Jim Clamp was awarded the Boy Scouts of America Distinguished Citizen Award at the annual Friends of Scouting dinner in Newberry on Feb. 23.
Born in Newberry in 1928, Clamp joined Boy Scout Troop 66 in 1940 with Wright Cannon as the Scoutmaster. Clamp became junior Assistant Scoutmaster in 1944 and Assistant Scoutmaster in 1946.
He remained with Troop 66 for many years and then began serving Boy Scouts through a variety of roles, including as chairman of the District Eagle Scout Board of Review. He also served on the Newberry County District Committee and conducted several camporees.
He was a long-time member of the Order of the Arrow. He also received the Newberry Boy Scout "District Award of Merit" in 1975 and 1992 and the "Service to Mankind Award" in 1981 from The Sertoma Club for service to youth. He served four years on the executive committee of The Blue Ridge Council.
Clamp received the "Silver Beaver Award" in 1981 for distinguished service to youth from the National Council of the Boy Scouts of America, upon recommendation of The Blue Ridge Council.
Clamp was born at his family's home on Hunt Street in Newberry to Ira Lee and Julia Norris Clamp. He had an older brother, Ira Jr., who was killed in the crash of a B-24 in 1943, and an older sister, Margaret, who now lives in Clemmons, N.C.
He graduated from Newberry High School and Newberry College with a degree in business administration. He joined the National Guard in 1947 when it reorganized after World War II and remained in the Guard for 41 years, the last 36 years in a full time status as a Civil Service employee. He retired in 1988 with the rank of Chief Warrant Officer, CW4.
He and Carolyn Eleazer were married on Feb. 14, 1960, and they recently celebrated their 57th wedding anniversary. They had four children: Alan, Paul, David, who died in 2009, and Linda.
Clamp is a noted historian and served as president of The Newberry County Historical Society from 1996 through 1997. He's an active member of Central United Methodist Church, including serving as historian and archivist from 1990-present.
He wrote and published a History of Central United Methodist Church. He also wrote a history of Mount Bethel Academy, co-authored "The Bush River Quaker Cemetery" and compiled the histories of numerous other entities and events in Newberry County.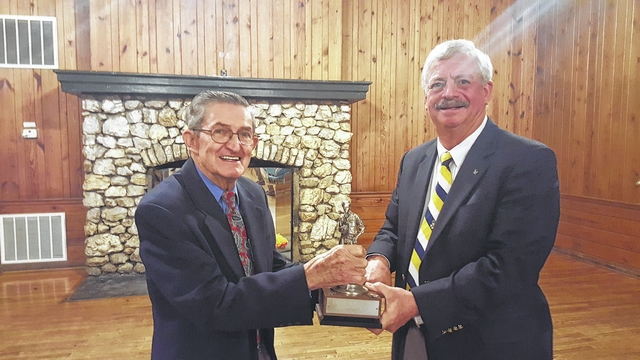 Jim Clamp received the Boy Scout Distinguished Citizen Award Thursday at a Boy Scout dinner at the Country Club of Newberry. Presenting the award for the Scouts was Les Hipp, who was a Scout in the troop Clamp helped lead, Troop 66.