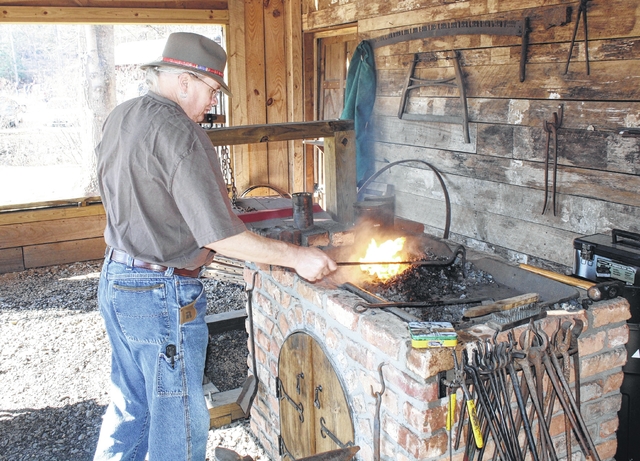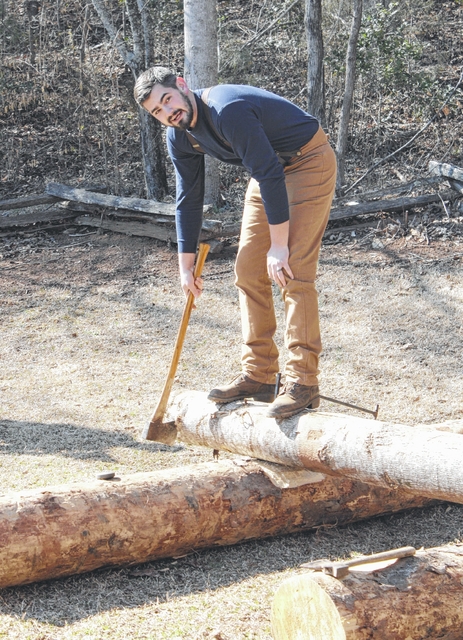 Traditional Appalachian activities such as hewing logs will be on display March 4 at the Third Gathering on Appalachian Life in Pickens. -
Courtesy photos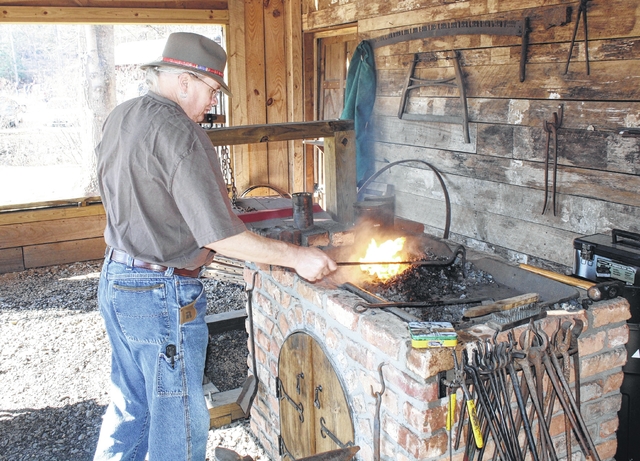 The Third Gathering on Appalachian Life will be held March 4 at the Pickens Community Center, with registration at 8:15 a.m. and the first session at 9 a.m. Cooking will be one of the sessions to be offered. -
Courtesy photos
PICKENS — The Third Gathering on Appalachian Life will be held March 4 at the Pickens Community Center, with registration at 8:15 a.m. and the first session at 9 a.m.
Thomas Cloer Jr., Furman University's former Mountaineer in Residence, and Dennis Chastain, a Pickens native with roots in the area as deep as Appalachian oaks, will kick things off at 9 a.m. in the newly reclaimed auditorium in our historic Pickens Community Center.
Cloer will speak about the home-rooted language of Southern Appalachia. Chastain will speak to the Southern Appalachian past, and what our ancestors did for a living.
Betty McDaniel, founder and chief of the Gatherings on Appalachian Life, began to react to her visions by contacting major organizations that might be interested in becoming sponsoring entities.
Those buying into the gatherings were such groups as the Pickens County Historical Society, Pickens County Library, Pickens Revitalization Association, the Hagood Mill Historic Site and Folklife Center, Birchwood Center for Arts and Folklife, Preserving Our Southern Appalachian Music Inc. and others.
Many facets of the Appalachian past will be featured in the 2017 gathering. A general session in the auditorium will be followed by four sessions during the day. Each of the four sessions will include many opportunities from which attendees might choose.
Events will include Jocassee Sampler: Natural and Cultural Wonders, Pioneer Mountain Farming Practices, Storytelling in Language of Appalachia, Cooking, Bee Keeping, Hewing Logs, Moonshining, Appalachian Genealogy, Appalachian Dance, Folk Music, Chair Caning, Double Knitting, Bobbin Lace, Making Doll Clothes, Mountain Herbal Medicines, and Early Flintlock Mountain Rifles.
While the Pickens Community Center will serve as the base for activities, other venues such as the old Hagood Mill, Historical Room of the Easley Library, and Dale Harward's barn for Bee Keeping will be used as well.
Tours of the Pickens County Art and History Museum will be given and Anne Sheriff, curator of the Faith Clayton Family Research Center at Central Wesleyan College, will lead a tour to Oolenoy Baptist Church Cemetery where she will speak to the significance of the cemetery in Pickens County's history.
She will showcase and honor the graves of Pickens soldiers who fought in different wars.
Pickens' own Young Appalachian Musicians, known as the Sweet Potato Pie Kids, will perform from 8:30 a.m. to 9:05 a.m. in the newly renovated auditorium at the Hagood Center before the general session.
The Heartstrings, founded by Lib Porter, will also perform. The Heartstrings utilize instruments such as autoharps, guitars, mountain dulcimer, regular fiddle, and upright bass fiddle.
Steve MaGaha will lead a session on Folk Music. MaGaha is a Jean Laney Harris Folk Heritage Award Winner, the highest South Carolina Heritage Award that can be achieved.
Nick Hallman will perform before or after your lunch. A jovial ham, Hallman often mixes his songs with funny stories. Nick also has been honored with the prestigious Bascom Lamar Lunsford Award, given annually to an accomplished musician dedicated to keeping mountain music alive.
Because of the isolation of much of Appalachia, moonshining has always been associated with its steep ridges, deep hollows, and cold, pristine mountain water. Upper Pickens County offered ideal conditions.
At the Appalachian gathering you can see a real moonshine still and see exactly how moonshine was made in this region. You can hear from a retired (reformed?) moonshiner.
Lunch served at the Pickens Community Center will be an old Appalachian staple, chicken pot pie, greens, apple crisp, and drink. The food will be cooked from scratch by seniors at the Community Center.
The cost for the full day is $20. You can register on the day of the gathering for $25. The Appalachian lunch will be $5.
E-mail mcdanibw1@gmail.com or call 864-878-4257 for more information. Visit www.cityofpickens.com/goal and click on goal registration form to register.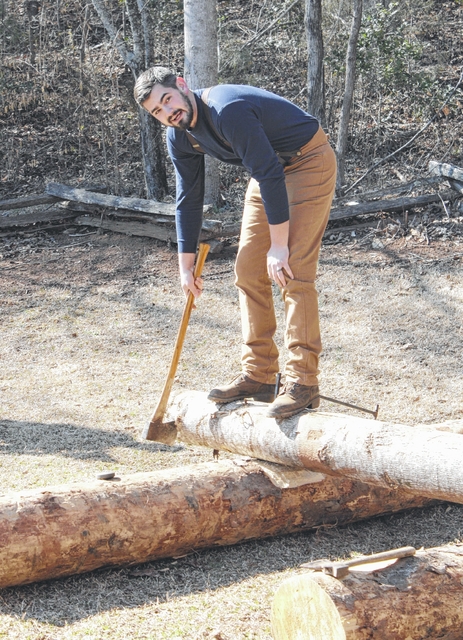 Traditional Appalachian activities such as hewing logs will be on display March 4 at the Third Gathering on Appalachian Life in Pickens.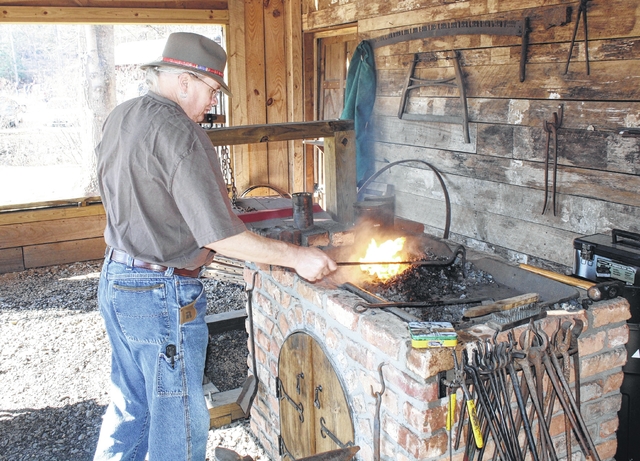 The Third Gathering on Appalachian Life will be held March 4 at the Pickens Community Center, with registration at 8:15 a.m. and the first session at 9 a.m. Cooking will be one of the sessions to be offered.